General features
These multi-layer labels are the ideal solution for printing mandatory text, translations or use instructions while maintaining a pleasing and attractive product design. You don't have to compromise when complying with legal labeling requirements. The two layers give you the extra space you need to display all the information properly.
Peel off labels allow two individual labels to be applied at the same time, on top of each other. The upper label can actually be peeled off and applied elsewhere, used as such or removed, depending on its purpose. The bottom label remains fixed on the product.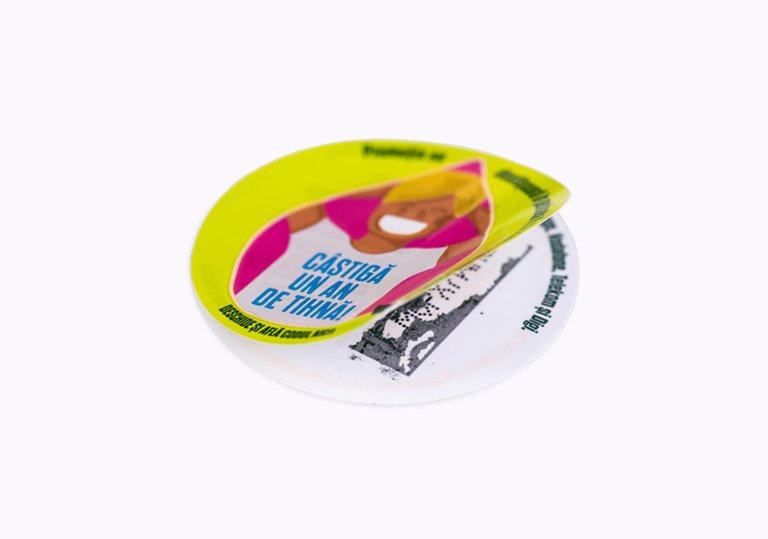 Technical specifications
Several options are available for piggyback labels:
1. You can choose between two detachment methods:
• complete removal of the top layer;
• partial removal with a book or notebook opening – consumers can read the information as many times as they like, sticking the first layer in place.
2. Printing can be done either on PP sticker or thermal paper.
3. Peel off labels are usually designed with a dedicated, non-adhesive area for easy removal.
Rottaprint's experts provide you with the technical support you need to optimize your label design and shape.
Peel off label uses
Peel off labels are the ideal choice when:
• you have a lot of information which needs to be displayed in an aesthetic manner;
• the label must be successfully opened several times; 
• you want to interactively signal a promotion and to display the terms and conditions – all on one label;
• you plan to integrate unique codes;
• you need a label that is resistant, ready for repeated use;
• you want to apply promotional coupons directly to the product as they can be completely peeled off;
• your product is small in size, yet you need to present a lot of info in an appealing way.
Peel off labels can be combined with other techniques such as scratch-off ink or variable data. You can add unique codes such as QR codes or alphanumeric codes.
By using the same final label size, you benefit from multiple functionalities. For instance, you can flag promotions, fill in product details, translate information into multiple languages or enter instructions for use.
Do peel-off labels seem like a good choice to meet your product labeling requirements?
Request a quote and we will find the right solution for your product.