Features and use
The metal label is represented by the metallic, premium look and the uniqueness it gives to products.
Due to the thickness of the metal, embossing and debossing on different levels will be prominent. Often these are among the only and most spectacular techniques used to enrich the metallic label.
Using them you will create a unique, tactile experience that will capture the interest and curiosity of your customers. We produce and print high quality self-adhesive metal labels with state-of-the-art machinery and technology.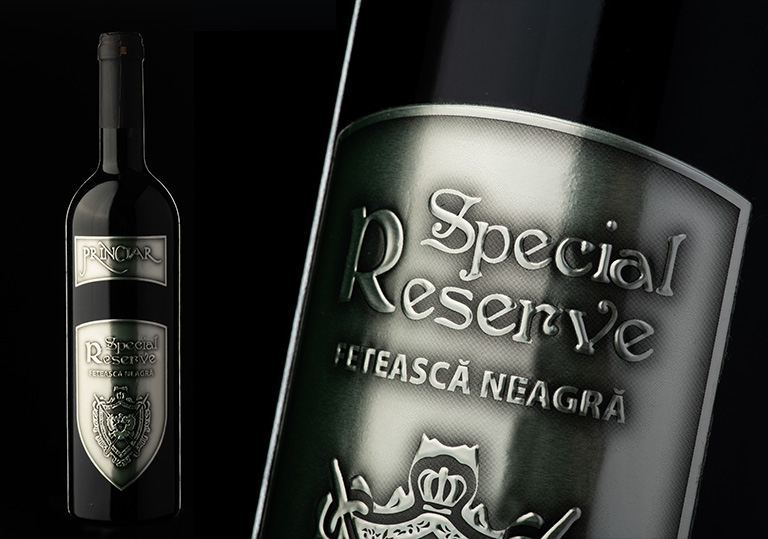 They are suitable for automatic labeling and available in different shapes, sizes and colors.
The metallic label is a versatile label suitable for wines and spirits, food in glass containers, perfumes and luxury cosmetics or home care products.
Key properties of the metal labels:
• Unique/premium appearance;
• Great tactile effect;
• Competitive differentiation.
Advantages of the metal labels
• Due to the material's resistance, metal labels are successfully used in humid and hot conditions (e.g. wine glass in a cooler, in condes);
• The metal labels are placed on a liner made of PET, a strong material that will not interrupt the automatic labeling process;
• The main form of finishing is embossing and debossing, with which you will create unique and tactile effects;
• Metal has a premium look that expresses nobility and strength;
• The metallic label makes it easy to choose an attractive design without having to use many colors or special printing inks;
• Strong adhesive with excellent adhesion on multiple surfaces, especially glass;
• The metal label can be used as an additional security measure – it is much more difficult to counterfeit products compared to those with paper or plastic labels.
Why choose Rottaprint for metal labels?
Having more than 30 years of experience in the field makes us a reliable partner. Our consultants will assist you at all stages of the label design process. Depending on the specific applications in your field of activity, we offer step-by-step guidance. In this way, you will communicate the desired message to your consumers through your premium labels.

Request a quote and we will find the right solution for your product.