High quality standards
Quality and professionalism are our strengths. We pay attention to every detail. This way, you can be sure that we offer the best solution for your product. By complying with a series of standards we ensure that the label will behave well throughout the entire process: from the moment of production, application, to distribution, shelf exposure and the moment of consumption.
The best solution for your product
Do you need a functional label or a label with a special design that will help the product to be noticed more easily in stores? Do you want a promotional campaign to reach the expected results? We will recommend you the right solution.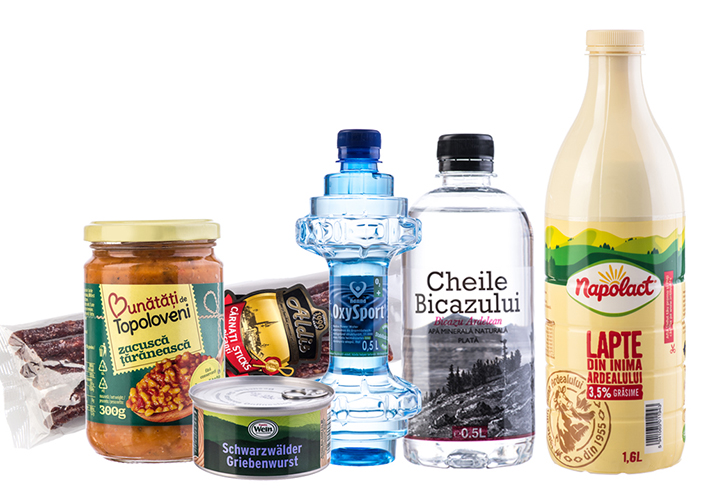 Before we present you the most effective solution, we want to make sure that we have all the details of your production flow to find out under which conditions you will do the labeling, which machinery will you use and in what environment. Our extensive experience and knowledge gained over time in the food industry recommends us as a reliable supplier and partner for your business.
Food packaging labels – What do we offer?
Standardized working procedures – due to the dynamics of the consumer market, the perishability of products, recurring promotions, but also the supermarkets strategy, the compliance with the delivery time is an essential point in the food industry. By constantly investing in state-of-the-art equipment and standardized working procedures, we ensure the continuity of your production flow.
Visual consistency of products and technology mix – At Rottaprint we use a mix of technologies to produce as wide a range of products as possible. No matter how many materials we produce for the same range of your brand, we will always maintain visual consistency. The efficient color management allows us to ensure the same colors for the whole range.
Stability and continuity of flow and materials – Due to our nearly 30 years of experience in the industry and the high workload, we have built strong partnerships with top raw material suppliers over time. Moreover, we are constantly connected to the innovations in the label industry and we ensure continuity and stability regarding the production flow and the materials used.
Consumers' health is our priority
Our purchase, production and delivery flow is built in accordance with the FSSC 22000 standard, comprising the complete scheme of the Food Safety management system, fully recognized by the Global Food Safety Initiative. Our main care is that the packaging we produce is compliant with all safety regulations and cannot threaten the health of your consumers in any way.
Request a quote and we'll find the best solution for you.