There is more and more debate about sustainable packaging in the food industry, and Napolact has found the answer in more environmentally friendly shrink sleeve labels and Rottaprint expertise.
Rottaprint's vision
Our vision is to build a sustainable and secure future together with our partners and customers. Protecting the environment must become a priority for all of us, and Rottaprint actively supports its partners to act responsibly with nature-friendly label and packaging solutions. Within the Rottaprint team, we are constantly interested in global trends regarding sustainability and the impact we have on the environment. That's why our material alternatives are designed to help our customers, as well as their end consumers, to recycle their product containers as easily as possible.
Latest trends in the sustainable packaging industry
With increasingly stringent EU regulations and Europe's commitment to achieve climate neutrality by 2050, product labelling is taking on a whole new shape.
Consumers' education and awareness have also played a major role in this significant shift towards more nature-friendly packaging and labelling.
Innovation and technology have contributed to the development of more sustainable packaging and label materials that can meet product protection and information presentation requirements while reducing environmental impact. There are now eco-friendly options that make it possible to recycle containers after they are discarded. The main trends include the use of recyclable and biodegradable materials, the circular economy to reduce waste, the use of alternatives to plastic, labels that are easy to remove from the container, labels with a recyclable component, compostable labels, packaging with components made of the same material (mono-material) or others. The sustainability information is becoming more detailed on labels, and supply chain collaboration and stringent regulations are playing an increasing role.
Furthermore, many companies and brands, such as Napolact, are committed to improving their sustainability. This includes using sustainable packaging and labels for their products.
What did Napolact want?
"Our partnership with FrieslandCampina is a long-standing one, and the key to success is our ongoing collaboration in implementing the best solutions for Napolact product labels", said Cristi Nechita-Rotta, general manager of Rottaprint.
Napolact wanted sustainable packaging. They looked for an alternative to the PVC film used in the production of their shrink sleeve labels. So FrieslandCampina made the decision to replace PVC film with PETg for shrink sleeve labels, a Rottaprint product. Known for its strength and quality, PETg film is energy efficient and environmentally friendly.
The solution proposed by Rottaprint
The first production tests achieved excellent results and in early 2019 the first Napolact products covered with PETg shrink film were launched on the market. The first containers in the Napolact portfolio to benefit from the replacement of PVC film with PETg film were therefore the small-weight containers (230 g, 330 g, 400 g, 750 g and 900 g). Later, Rottaprint specialists actively worked on developing a solution for the larger containers (1.4 litre and 1.6 litre), so that now all Napolact shrink sleeve labels are made exclusively from PETg.
Rottaprint's solution was a perfect match for FrieslandCampina's shrink sleeve label requirements:
Productivity:

Choosing a material that runs smoothly throughout the production process without slowing it down was essential. Moreover, initial adjustments were made quickly in collaboration with the technical specialists in the Rottaprint team, right from the testing stage, avoiding the need for further modifications.

Packaging quality:

This reflects the brand image. The foil must look flawless and shrink well during the contraction process.
Flexibility in incorporating seasonal promotions into packaging design: In addition to the high quality of the print, the ability to implement promotions is a key factor for an FMCG brand committed to communicating directly with its buyers. At the same time, the price was also within the budget allocated by the company for this type of packaging.
What results were achieved?
For FrieslandCampina, the switch from PVC to PETg film for shrink sleeve labels was an important step in their project to recycle a significant part of the packaging they put on the market. This change has contributed to a more eco-friendly packaging. PET containers are recyclable and the PETg film peeled off the container can be recovered as an energy source, unlike PVC film.
PVC, the material from which shrink sleeve labels were traditionally made, is not biodegradable and can generate toxic chemicals when burnt. At Rottaprint, we have stopped using PVC film for the production of shrink sleeve labels since 2021.
To ensure efficient recycling of PET containers, shrink sleeves must be removed. Otherwise, the use of additional equipment is required. The shrink film used by the company already has the advantage of easy removal from the container thanks to the perforated strip, so the only extra step consumers need to take to help complete the cycle is to peel the film off the container as indicated on the packaging.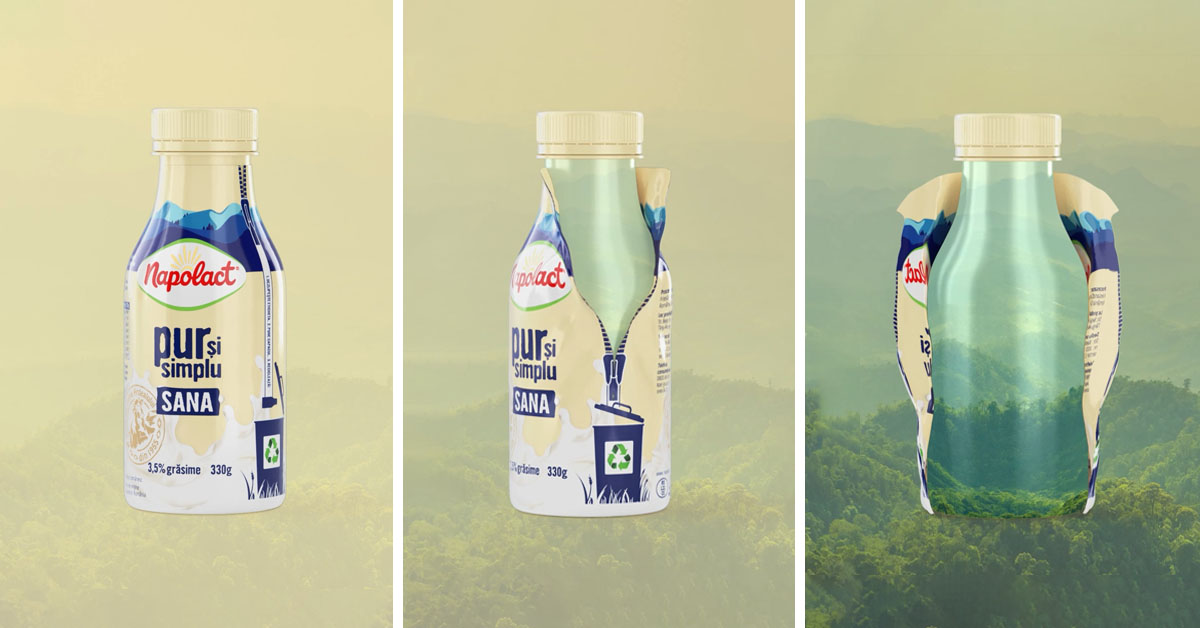 Napolact takes responsibility for educating consumers about the correct way to recycle their packaging and labels. The company runs ongoing awareness campaigns and provides useful information to consumers to encourage them to help protect the environment through responsible packaging management.
The Napolact and Rottaprint collaboration demonstrates that sustainable packaging can go hand in hand with innovation and quality. By choosing to invest in more environmentally friendly materials and actively involving consumers in the recycling process, Napolact has made a strong commitment towards environmental protection.
It is essential to point out that Rottaprint not only offers sustainable packaging for customers, but also a vision for a more sustainable future. By partnering with Napolact, we reaffirm that environmentally friendly solutions are not just something optional, but a priority in the labelling industry. With every sustainable packaging, we are doing our part to create a greener and more promising future for all.
We're ready to help you make the switch to sustainable packaging and labelling. Together, we can make a difference.
Request for quotation
Send us a message and we'll find the best solution for your inquiry.