In the first half of the year, we recorded a turnover of about 11 million euros, which is up to 7 percent in the same period last year. For the second part of the year, we estimated the same growth rate.
What were the main investments?
The main investments made in the first semester of the year were in the development of the working infrastructure, through the construction and renovation of all offices and common spaces at the Apahida store, necessary once the team has faced a huge growth.
We also invested in new production equipment that facilitated the introduction of new products in the portfolio, such as anti-theft labels, a more aesthetic solution through which all products are protected, but also the improvement of already existing ones. The investments will continue until the end of the year and they will go through the development of the production center in Apahida, as well as in a new finishing machine.
Rottaprint on the export market
The share of exports from the total turnover remained constant, of 26%, but the number of foreign customers increased by 21%, the majority coming from the food and chemical industry. Currently, 23% of all customers are served by the logistics centers in Germany and Hungary. For this year, we estimate an increase in the number of German customers by approx. 30%, and for Hungary 10%.
"This year, we will continue to expand our customer portfolio for logistics centers in Germany and Hungary. Currently, we cover half of Hungary, but we want to focus on in-depth market knowledge and diversification of the product portfolio. As in Romania, the main industry for which we produce self-adhesive labels is the food industry. This is also maintained for export, considering that in Romania and Hungary, we work with industry leaders and have a dedicated experience " Cristi Nechita-Rotta, Rottaprint General Manager.
The most popular products
The most requested products by customers, during the first six months of the year, were: self-adhesive labels printed, followed by aluminum foil covers and shrink sleeve labels. The top of the industries that request our services is the food industry, beverages, and soft drinks, cosmetics and home care, pharmacy, and food supplements, but also logistics.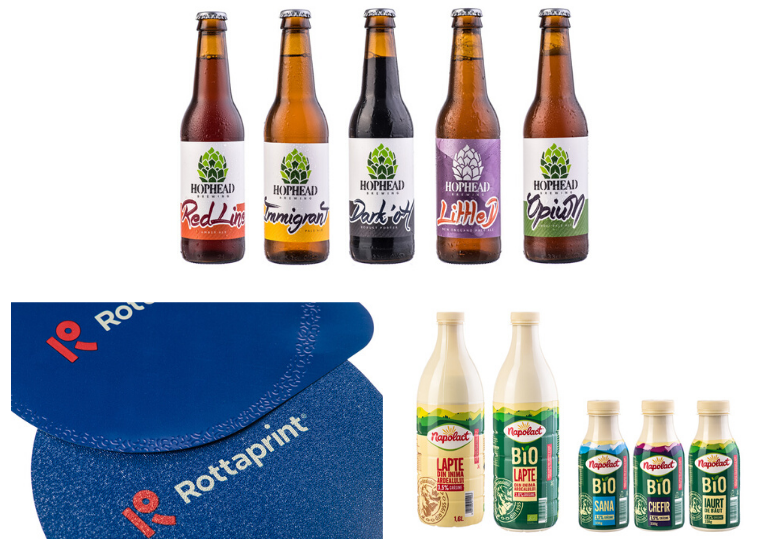 "Among the trends observed this year, we find that the heat shrink labels are growing steadily in the cosmetics and home care products industry, compared to the previous years when the self-adhesive labels were highly required." Cristi Nechita-Rotta.
As for the most demanded products for export, the first places in Hungary were self-adhesive labels and printed sheets for sealing meat pans or meat preparations, aluminum caps, and wine labels, and in Germany, there was an increasing demand for PET liner labels and Digimarc labels – which requires a special printing technique for faster barcode scanning at the cash register or scanning it directly with the phone by consumers.